About Our Company
Burnham Associates is experienced and committed to working with federal, state and munincipal governments as well as with the owners of shore side facilities to plan and execute the work of maintaining and improving our waterways and access to their shore side facilities. Our Resume bears out a history of finding reliable and when needed innovative means to accurately perform the needed work with as little disruption to the surrounding facilities as possible.
Latest Projects
Charters & Rentals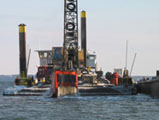 Burnham Associates offers a number of its vessels for charter. These are available with or without crew. Equipment rental is also offered.
Our Equipment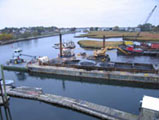 Our equipment is state-of-the-art equipment capable of
handling any situation encountered in relatively shallow
ponds to shipping harbor depths.